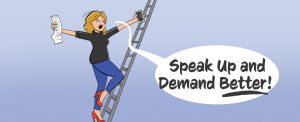 Why is it acceptable for companies to send refurbished equipment as justifiable replacements when they are exchanging items that were classified as manufacturing defects and are only six months into their one year warranty? I don't get this. They accepted responsibility for the flaws. Don't we deserve brand new equipment when malfunctions occur through no fault of our own?
This happened to us recently with a printer and a phone. The replacement printer had a shiny silver plate on the back engraved "certified refurbished model". The 'new phone' box was armed with stickers stating, "refurbished – reused serial card". They actually spent much more effort providing detailed instructions on proper repacking of the machines going back, outlining how to reuse each piece of tape and styrophome etc. back into the boxes that the 'sort of' new devices came in. Chances are those returns were refurbished and some family in Kansas has them now.
As I say in the book, we all need to speak up and demand better. In both cases, they were expecting me to only have the remaining months warranty on the refurbished models from the dates of my original purchases. Up the ladder I rose until I finally got to a manager that had the authority to approve a one year warranty from the day the refurbished replacements landed on my door step. Can that be considered a small victory?